The hapless Cleveland Baseball Club offense will take on middling Cincinnati Reds righty Tyler Mahle as they look to avenge their recent woes. Losers of four straight, they will need to actually remember to bring their bats to the stadium this evening in order to score more than a pair of runs in a game for the first time in a week.
A brief look at Tyler Mahle's arsenal, courtesy of Baseball Savant:
As is depicted in the helpful graphic, he leans fastball around 57 percent of the time and its velocity is right around league average. Middling velocity in addition to ordinary spin rates yield very few swings and misses on the pitch, so it turns into a location to optimize contact management scenario. To that end, he allows a 0.336 weighted on-base average with it, which is slightly below average.
It will provide a substantial opportunity for a Cleveland offense that has been downright inept against fastballs in 2020. Only the Arizona Diamondbacks have a worse weighted on base average (wOBA) against the pitch in first couple weeks of the shortened season.
For those less sabermetrically-inclined, Cleveland sports a 0.281 slugging percentage and 0.199 batting average against fastballs. Again, only ahead of Arizona.
Looking further at his arsenal, he has a decent paced curveball, which has caused pitch tracking systems some difficulties in the classification genre between slider and hook. Additionally, a cutter is dropped in for good measure. The hooks are where is whiff rate comes into play to produce an medioce strikeout rate, though he is especially effective against righties with these pitches.
Mahle also has a changeup, which has historically been a problem for Cleveland hitters… but it is one of the worst rated iterations of the pitch per weighted pitch values. Due to this, Mahle struggles mightily against left-handed hitters.
Looking at his career MLB splits, the 25-year-old righty has consistently allowed an earned run average of two to three runs higher against lefties than against righties. This is mirrored in his WHIP and slugging percentage allowed marks.
If forced to make a call now, this author would venture a guess that Tyler Mahle's future is in the bullpen, where he can play up his fastball to a couple ticks above average on the radar gun and be called upon to mow down two or three righties in an inning, even with the three batter minimum. This would also permit him to ditch the ineffective changeup/split-finger (depending on pitch classification) and dial up breaking balls galore.
There are ways Mahle can be special in starting situations, though, especially considering the scuffling entity that is the Cleveland Indians' offense.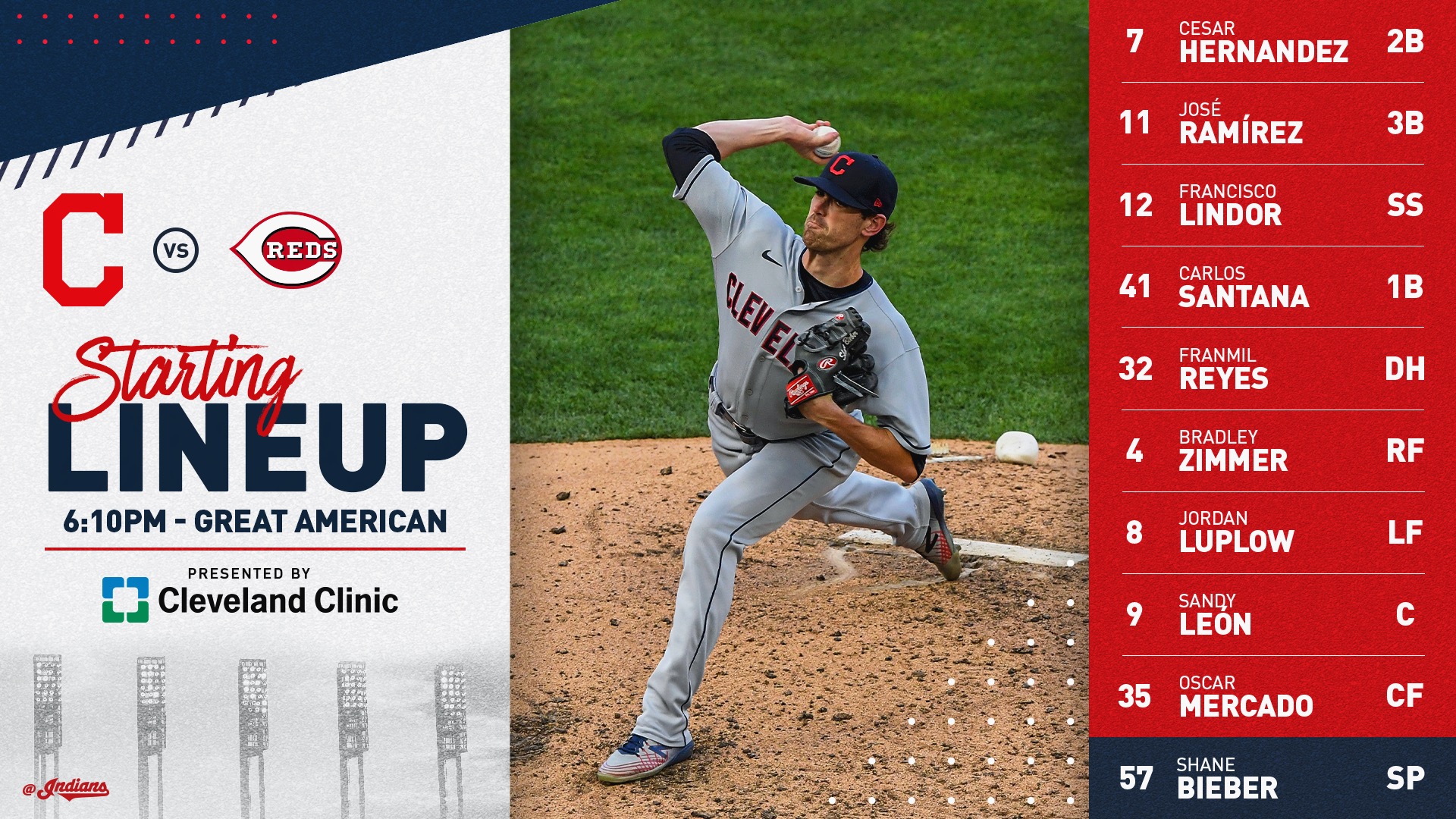 Courtesy of the Indians' social media account, we can use this game's lineup to pick apart the split gains versus Mahle. First, the struggling Franmil Reyes and Oscar Mercado, being two of the three righties in the lineup, will have a tall task. Additionally, Mahle doesn't seem like the best bet to get Jordan Luplow more plate appearances against a same-side arm given these splits.
There are enough compelling lefties ready to do damage, though. Keying in on the first four hitters — Cesar Hernandez, Jose Ramirez, Francisco Lindor, and Carlos Santana… Though they are all respectable bats, they profile against Mahle particularly well. Bradley Zimmer's new stance and swing is also in a good position. Overall, while it might have made more sense to give a few of the righties plate appearances to a Daniel Johnson or relatively split-neutral Domingo Santana, this lineup is in a good spot against a mediocre arm.
The Verdict: The Indians bust out of their funk in some capacity, propelled by the top for switch-hitters batting from the left-handed side of the dish.